We're Getting Mutants in the MCU - The Loop
Play Sound
"
Summit Entertainment bringing Dork Diaries to life is a dream come true! My book series could not be in more capable hands. My fans and I are super excited to see Nikki Maxwell and her dorky world come to life. I'm super excited.
"

– Rachel Renée Russell, about the movie announcement
Description
As of 2016, author Rachel Renee Russell announced that Lionsgate Summit would produce a Dork diaries film. The movie was to be directed by Mark Waters, who also directed award-winning comedy, Mean Girls. Many speculate that the film has been canceled due to a number of reasons as there was no more information about the movie's development since late 2015. As of August 2016, there had been not been at least a trailer released about the movie. In 2017 at the National Book Festival, Rachel Renee Russell expresses her disappointment as she explains that Lionsgate had discarded the Dork Diaries movie, due to Lionsgate believing that Dork Diaries is not a popular series, and "-nobody will turn out to see the movie." She also believed that one of the factors of the cancellation of the movie was due to the gender and age demographic, since Lionsgate had not produced a movie since 2006 to a younger female audience.
Production
As of July 2021, there had been not been at least a trailer released about the movie. It has not been confirmed yet by the author that the movie had been put off or even permanently discontinued production. In February 2021, it was revealed in a video on the Dork Diaries YouTube channel that the reason why the Dork Diaries movie wasn't made. The reason of discontinuing was because of COVID-19. And it was also revealed that a Hollywood movie production was looming to make a dork diaries movie.
Cast
As of the year 2022, the cast goes unannounced.
More Information
Movie Updates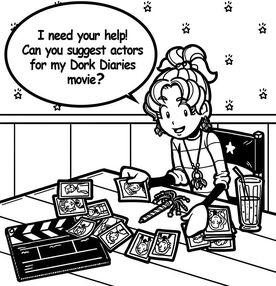 September 5th, 2014 - Russell announces that the film will be made!
May 15th, 2015 - Nikki announces she needs help with choosing actors/actresses for her movie.
September 18th, 2015 - Nikki announces Mark Waters will be the director for the movie.
November 9th, 2017 - Russell announces Lionsgate/Summit had ultimately discarded the movie.
February 8th, 2021- It is revealed a production company was extremely interested to film a movie based on the series. Any production on the film has been put on hold due to COVID-19.
Trivia
There is a high chance that the movie wasn't delayed due to COVID-19, since it has be announced since 2014.
"If Lionsgate does not want to make a Dork Diaries movie, fine. I'm fine with that because it WILL get made." -Russell at the 2017 National Book Festival