Doug Thurston is the main antagonist in the Dork Diaries sister series, The Misadventures of Max Crumbly. He is considered rude, crude, and a bully by the main character, Max Crumbly, in the book series. Not much is known about Doug besides the fact that he is always mean to Max and repeatedly tries to make Max's life miserable. His character is analogous to MacKenzie's in the Dork Diaries series.
Description
Doug is described to be a bully and Max Crumbly's enemy. He has a blatant crush on Erin Madison, the female counterpart of Brandon Roberts, in the Max Crumbly book series. Doug does everything he can to embarrass Max in front of Erin and desperately tries to woo her in order to gain her affections, but to no avail.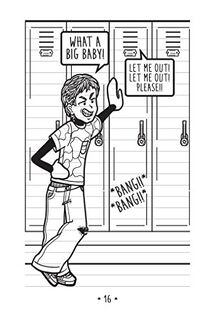 Personality
Doug is a mean-spirited boy who gains attention from others with his vulgar jokes and behavior. He is branded as South Ridge Middle School's "bad boy". Doug's behavior includes stuffing kids into their lockers, which is done the majority of the time to Max.
Appearance
Doug is depicted with straight hair, possibly black, and a unique eye shape. His eye shape has never been seen on another character, hinting that he may be Asian. Doug's specific appearance, such as eye and hair color, is not touched on by the books.
Family
Doug's family has not been described in the series, but it is assumed he has two parents.
Friends
Doug does not appear to have a best friend, but it is probable that he hangs out with his bullying cronies.
Gallery