This site contains

Spoilers!

Please check the wiki's

regulations

before editing.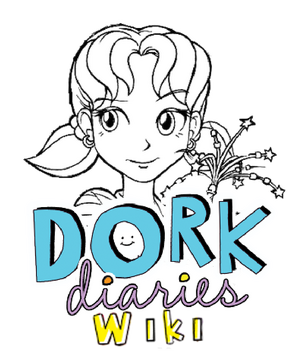 The Dork Diaries Wiki is a collaborative website about the #1 New York Times bestselling 'Dork Diaries Series Created by Rachel Renée Russell
This encyclopedia is written by fans for fans, and everyone is welcome to participate. Edit the articles, upload your photos and videos of the series, or comment on our forum.
Today is Wednesday, July 6, 2022, and we are editing over 281 articles and 2,029 images and videos!
Synopsis
'Dork Diaries follows the chronicles the life of Nikki Maxwell, who is a new student at Westchester Country Day Middle School. She tries to deal with everyday life that teens can relate to.
Follow Nikki's journey through her last year in middle school with love triangels, family- and friends drama, a girl who tries to ruin her life, and everything in between!

Featured Character
Chloe Garcia is Nikki's boy-crazy BFF, partner in crime, and amateur romance expert. She's sweet, girly, sensitive, and loves to read the latest romance novels. Chloe is very protective of Nikki and always has her back when the going gets tough. She can bring a big smile to Nikki's face with a group hug or by flashing her "jazz hands".



Featured Pairing
Branikki (Brandon and Nikki) is the romantic paring of Brandon Roberts and Nikki Maxwell.Nikki has a crush on Brandon and he returns her feelings.This paring is the most love and popular paring in Dork Diaries.The series seems to revolve around Brandon and Nikki's relationship.
Rachel Renée Russell is an American author of the book series Dork Diaries and The Misadventures of Max Crumbly.
Dork Diaries, written in a diary format, uses doodles, drawings, and comic strips to chronicle the daily life of the main character, Nikki Maxwell, as she struggles to fit in and survive middle school.
The Dork Diaries books are based on Russell's middle school experiences. Her daughter, Nikki, is the illustrator of the series. The main character, Nikki Maxwell, is named after her daughter.

As of January 2019, over 45 million copies of Dork Diaries have been sold worldwide in 42 languages!